Last year, over 50% of organizations who stored customer data in the cloud had security incidents. Did yours? If your company had a breach of customer data, you'll want to know if that data is for sale on the Dark Web.
What's the difference between the Deep Web and the Dark Web?  The Deep Web is any page or website that is not indexable by search engines.  If Google cannot find the site, it is on the Deep Web.  Most of the internet is on the Deep Web, behind a firewall or not accessible via the Clear Web.  According to Root Nation, of all the data on the web, the Clear Web accounts for 4%, the Deep Web accounts for 90% and the Dark Web accounts for 6%.
The Deep Web includes profiles on social websites, webmail, online banking, web forums, and anything else that is private from the public.  Newspaper articles, white papers, and other media can be behind a paywall, which means they are on the Deep Web, too.  Accessing this kind of gated content requires a password or other kind of security access.
Different rules govern the Dark Web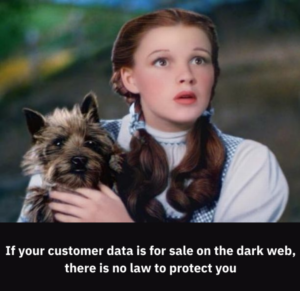 And just like when Dorothy says to her dog, "We're not in Kansas anymore," if your customer data is for sale on the Dark Web, different rules apply.  Instead of governmental rules, the rules that govern are reputation and trust. And the currency of choice is often Bitcoin because it is encrypted and makes financial transactions impossible to trace.  
On the Dark Web: users establish an account on a website, put bitcoin into their wallet, and shop.  There is feedback for the sellers and everything is designed to characterize trust.  These sites introduce convenience, choice, customer service, and competition into the process of buying illegal goods and services, which drives the price down and the quality up.  Indeed, the Dark Web lowers the barrier of entry into cybercrime.
Dealing with Dark Web dangers
Cybercriminals are not a handful of hacktivists anymore, they're business-savvy individuals. The Dark Web makes it easy to find prebuilt exploits, phishing kits, credentials, and network access. The result? A cyber attack happens every 39 seconds in the world.
CISOs and their teams need a solution that allows them to listen into what hackers are talking about on the Deep Web, Dark Web, and instant messaging applications. Once they understand the threats targeting their business, these teams can plan to counter these attacks.
Learn more about CybelAngel's Dark Web Monitoring to protect your organization from attacks that could wreak havoc on your company amongst this ocean of potential attacks by:
Gaining visibility into hackers' hidden channels to protect your business from cyber threats.

Accessing instant messaging applications such as WhatsApp, Telegram, Discord, IRC, etc.

Following threat actors wherever they are.
If you suspect your sensitive data — maybe customer data — has been breached and may be for sale on the Dark Web, contact CybelAngel.  To get an idea of your organization's digital risk, try our free dashboard today.